How to build a high-end sim racing cockpit for under €4000?
In this blog, I'll provide you with enough information and product expertise to enable you to construct the finest "high end" racing simulator you can, even on a limited budget.
I'm not going to urge you to settle for a Logitech G29 or other "cheap" equipment at first. Instead, I'm going to select what I believe to be the greatest sim racing equipment that will provide you with a sim racing experience that is very near to "high-end" but at a considerably lesser cost.
My budget for this project is €4000. If that seems excessive, don't worry; following our buyer's advice, particularly our favourite sim rigs, wheels and wheelbases, pedals, and seats, can help you save money. But, as I previously stated, if you want our advice for the finest possible high-end experience without having to spend upwards of five figures, keep reading.
Hereby is my configuration:
Sim-Lab GT1-EVO Rig - €379
Sim-Lab GT1-EVO Single Screen Mount - €69
Sim-Lab Speed1 Seat - €329
DC Sim Racing DC3 Pedals - €569.99
Fanatec CSL DD - €349.95

Audi GT3 Elite Steering Wheel -

€549,99

LG UltraWide 34WN750-B 34 Inch QHD monitor -

€409.99

ADMI Gaming PC: i5 9400F 4.1Ghz SIX Core CPU/NVIDIA RTX 2060 6GB / 16GB -

€1110.94

The total price is:

€3767,86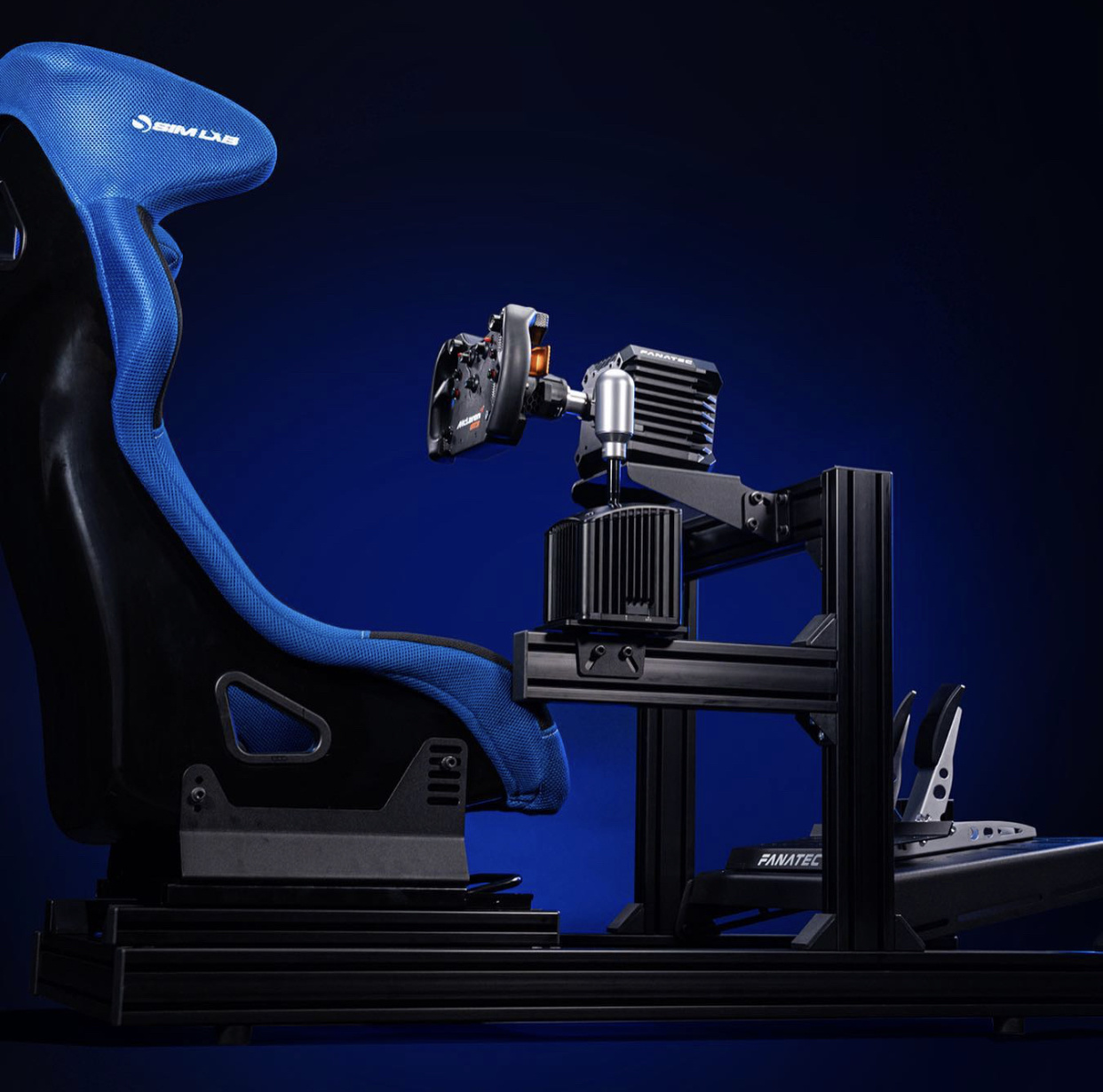 I don't think you can top this cockpit for the price of €379. It's built of 8020 aluminium profile, so there won't be any flex in the mainframe or wheel support (see this article for more on what "flex" is and how to avoid it in a sim setup). More significantly, you'll have a sim rig that you won't need to improve in the near future. Even if you do decide to upgrade, SimLab offers a kit to convert the GT1 to the superior P1-X.
A simulator cockpit with significantly more flex than the GT1 Evo can be had for a lot more money. It comes with a pedal base that works with the Heusinkveld Sprints (more on the pedals later), as well as a MiGE motor mount that works with the fantastic Simucube Sport 2 Pro. This is the cockpit chassis I would have chosen if it had been available when I constructed my first simulator!
The Sim-Lab Speed is one of the best, if not the best sim racing seats you can have! It's super comfortable for long races and most important it's well designed to give you the best posture when racing.
The Sim-Lab Speed1 seat is a non-FIA approved, fibreglass seat with an ergonomic shape.
Characteristics
NOT FIA approved, identical design to the FIA seats

Fibreglass structure with a black gel coating

5-point harness

Side-mounted using bucket seat bracket set (M8x20 screws included)

Removable high-density foam cushions, offering a high level of comfort for prolonged driving sessions

Mobile phone pocket

Designed for M and L sized drivers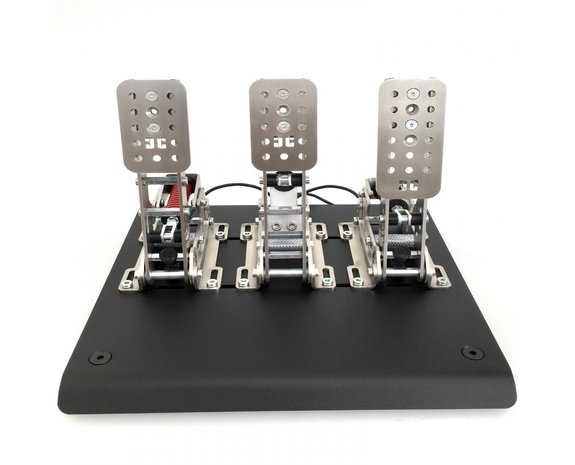 Decent pedals are equally as crucial as a good steering wheel for getting your car around the circuit fast. This time, the Spanish DCsimracing A.D2 pedals are on the schedule to be serviced by SRB. These pedals are now available for €429,99 including VAT on the DCsimracing website and can be bought directly from them. If you like three pedals, you may get a separate clutch pedal for €110.00, or you can order the A.D3 pedals right now for €569,99. We chose the two-pedal version because the majority of the cars we drive have a sequential transmission.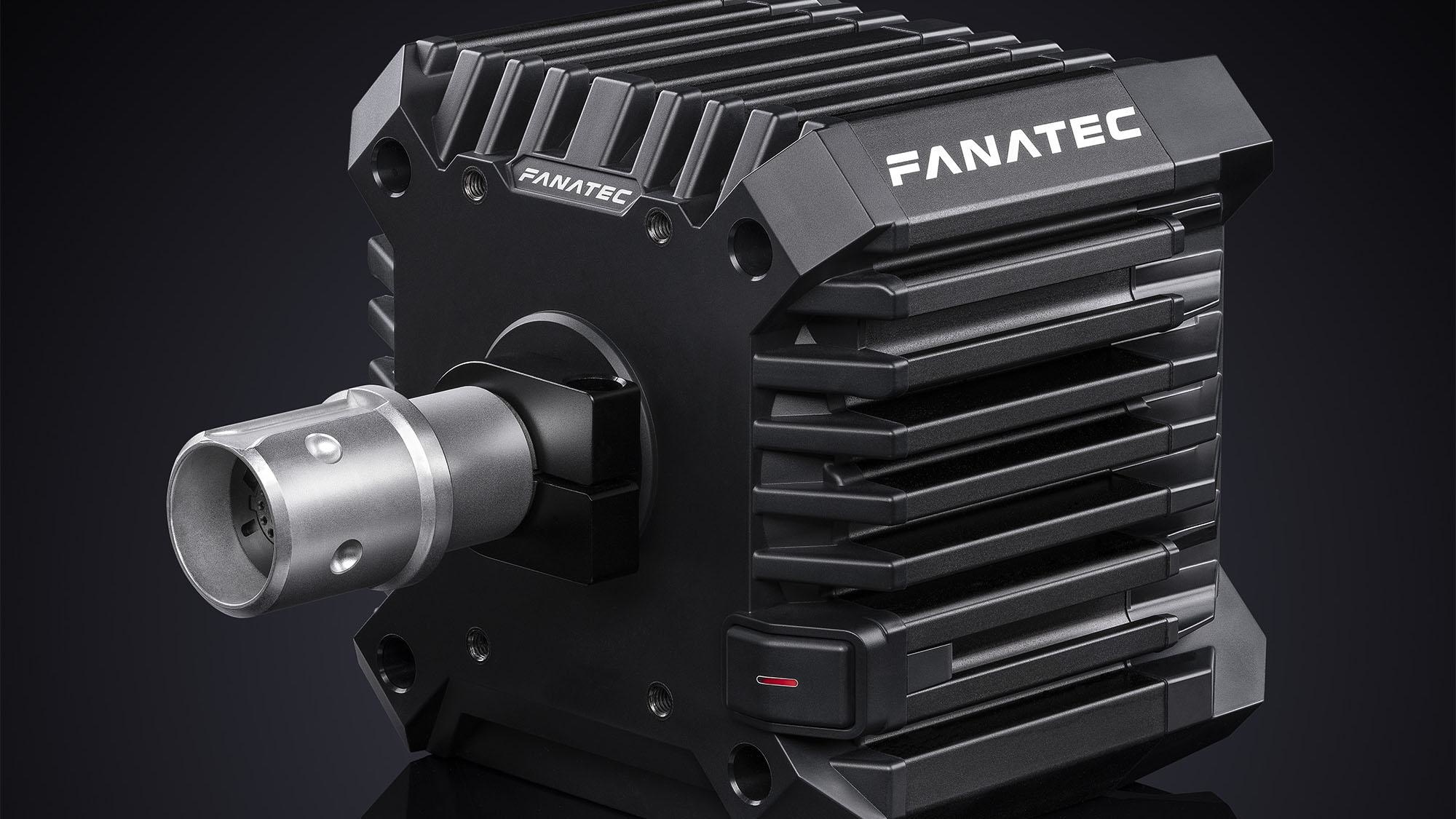 April 1st, 2021 is still fresh in our minds. Given the costs of the previous DD1 and DD2, a Fanatec Direct Drive device with a price tag of €349.95 appeared to be the April Fool's prank of the century. Nothing, however, proved to be less true! The Fanatec CSL DD was quickly publicized, and the first orders were dispatched and delivered just a few months later. 
The CSL DD is Fanatec's new showcase, or The New Standard DD, as they call it. For the first time in the CSL range, this all-new wheelbase has Direct Drive technology, which means a motor in the wheelbase sends power directly to your steering wheel without the need for gears or belts to dilute the force sensation. As a result, a Direct Drive wheelbase has been developed that is significantly less expensive than the Podium wheelbases and immediately replaces the formerly popular CSL Elite V1.1 single-belt driven wheelbase. As a result, the Direct Drive technology is now accessible to a wider range of users than previously. According to Fanatec, the CSL DD is compatible with both PC and Xbox.


The Audi GT3 Elite steering wheel, with a compatible quick-release or adapter, is suitable for all wheelbases available from Simucube, Fanatec, Thrustmaster, Logitech etc. The steering wheel has a diameter of 300mm and consists of two parts. The base consists of a 5mm aluminium front plate with an aluminium housing. The sharp edges of the aluminium are neatly rounded and smoothed out. Weighing in at 1120 grams, the steering wheel feels very firm and solid.
The high-quality shift modules are located at the rear of the steering wheel. The shift modules and paddles are CNC machined from aluminium and then black anodized. Here, too, all sharp edges are neatly smoothed out. Inside the switch modules, we find a Cruzer microswitch which is also used in real race cars. So you could say reliability at its best! We do miss the possibility to adjust the shift modules and/or paddles. There are no other options than moving the paddles to the other side of the holder so that they come 3 mm closer.
On the front of the steering wheel, we find 9 high precision and quality APEM buttons, 3 rotary CTS 288 encoders with push-button functionality and 1 multifunctional 4-way joystick with rotary encoder.


You can't go wrong with this 34-inch QHD (3440 x 1440) ultra-wide monitor if you're looking for a decent place to start. It's perfect for gaming (see our guide to gaming displays for sim racers here) and comes with AMD's Freesync (NVIDIA G-Sync compatible as well), and you'll be able to attach it right to your cockpit if you acquire this monitor mount for the Sim-lab GT1-Evo.



GPUs are in extremely low supply, as everyone knows. So you have two choices: buy a well-specced PC with a lower-performance GPU for £2/3,000 and wait for a 3080 to become available, or locate a PC that meets all of your needs for a certain piece of software. This computer from UK supplier ADMI is, in my opinion, a bargain: iRacing doesn't require a large amount of power at the best of times (mine RTX 2080 ti doesn't even break a sweat), therefore this machine from UK provider ADMI is, in my opinion, a bargain.
This PC features an i5 CPU operating at 4GHz, which is rather fast for a gaming PC that is often regarded to be on the lower end of the power spectrum. It features an NVIDIA RTX 2060 6GB graphics card, which is still a fantastic card. The price tag, on the other hand, is a plus. A good small gaming PC for less than $1,000. This is more than adequate for iRacing in my view, and it would also handle Asetto Corsa excellently.
The only major challenge in putting the simulator together is understanding how to properly use the sliding bolts while creating your cockpit. It's probably advisable not to tighten all of the bolts until you're satisfied with the structure. To tighten everything, you'll need a lot of torque, but be cautious not to let an Allen key slide.
It's similar to mounting the pedals and wheelbase in that you want to make sure everything is in place before tightening the nuts.
Set up at least a day, if not more, to put everything together! After a few days, you may also feel compelled to make adjustments. My advice is to construct the rig as best you can, install iRacing, and have a good time before making any tweaks or becoming serious.
If you follow this tutorial, you'll be able to build a racing simulator for less than €4000!