Top 5 Best Monitor Mounts & Stands For Sim Racing
Freestanding (movable anywhere in the room) and integrated monitor stands and mounts (fixed directly onto your rig) are the two most common types. Triple monitor setups vastly improve your sim racing experience, providing incredible immersion and realism!
If you race at a desk, you probably won't need a monitor stand, but if you have a freestanding setup, you'll need one. Monitor mounts and stands come in a variety of forms and sizes, but they all serve the same purpose: to enable you to modify the height, spacing, and angle of your displays.
VESA (Vehicular Equipment and Safety Association is an area where a lot depends on your needs, and it's something I'd spend some time on throughout the planning phases. It's critical that whichever stand you use can accommodate the sizes of your screens.
Below we have listed our top 5 monitor mounts and stands for your sim racing cockpit. 
1. Sim-Lab Single Or Triple Integrated Monitor Mount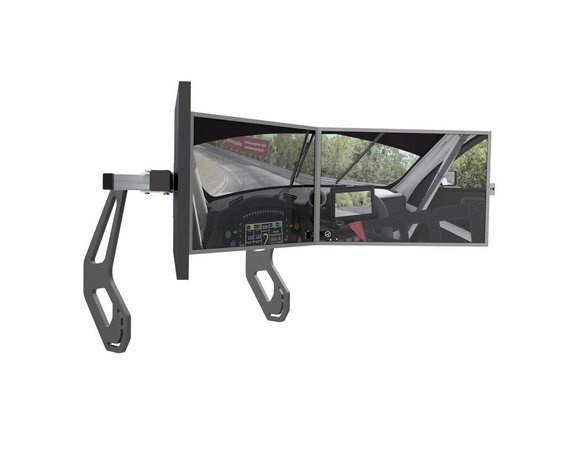 The Sim-Lab Integrated Monitor Mount uses 15 mm aluminium black coated brackets to support a single or triple monitor assembly which can be mounted on your rig. For the integrated triple monitor mount, a screen size of up to 27" is recommended. We personally suggest the floor-standing model 100/200 for 32 or 31.5-inch displays. Although it supports 32-inch screen monitors, we've found that triple 32-inch monitors perform less well in some instances, based on our experience and customer feedback.
The Sim-Lab Integrated Monitor Mount is compatible with the:
P1-X Cockpit
GT-1 EVO Cockpit
Any 3rd party cockpit similar to above
27-32-27 inch monitor setup
Up until 27-inch triple monitor setup
32-inch setup possible but we advise the floor standing type.


2. TREQ Sim Unified Single Monitor Mount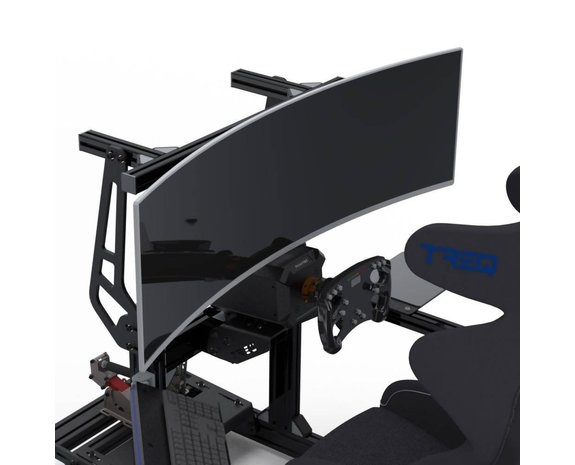 The Treq Sim Unified Single Monitor Mount is a well manufactured and solid monitor mount by Treq Sim.
This single monitor mount is adjustable and can directly be mounted at your desired rig. It's also possible to move your monitor very close to your eyes and above your steering wheel to get the optimal sim racing experience. 
The Treq Sim Unified Single Monitor Mount can hold any screen that supports VESA 75x75 or 100x100.
It's now even possible to mount the latest 49" ultrawide monitors on this beautiful monitor mount.
3. SimXPro Triple Monitor Stand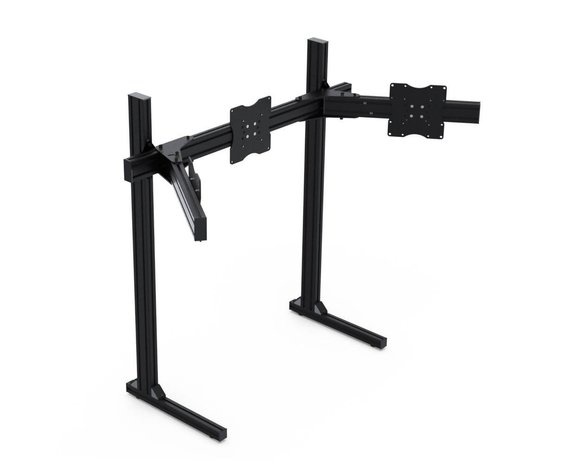 The SimXPro Triple Monitor Stand is one of the most solid triple monitor stands out there on the market.
This particular has no direct connection to your rig which makes it easy to move it around to your desired distance. Due to the fact, the monitor is not connected to your rig, you won't have any vibration from your wheelbase to your monitor. This monitor stand is the heaviest version which can hold up to 42" inch monitors. The Triple Monitor Stand is made out of 80x40 Aluminium profiles and features 3 VESA 200x200 mounts. 
In case your monitor is 27" or smaller, we would recommend you to order the SimXPro Light Triple Monitor Stand version.


4. TR8020 Black Cockpit-Mounted Triple Monitor Mount
Most monitors with VESA Mounting Points (75/100/150/200mm) are compatible with the Trak Racer Triple Monitor Mount, which comes with a 3-year guarantee. With Trak Racer's high-quality build monitor mount, you can improve your sim racing experience, leisure, or work experience.
Designed to be directly attached to an extruded aluminium sim racing rig with two or more rows of T-Slots. Height, bracket width, and back/forward movement are all adjustable, allowing the monitors to be perfectly positioned.
5. Sim-Lab GT1-EVO Single Screen Mount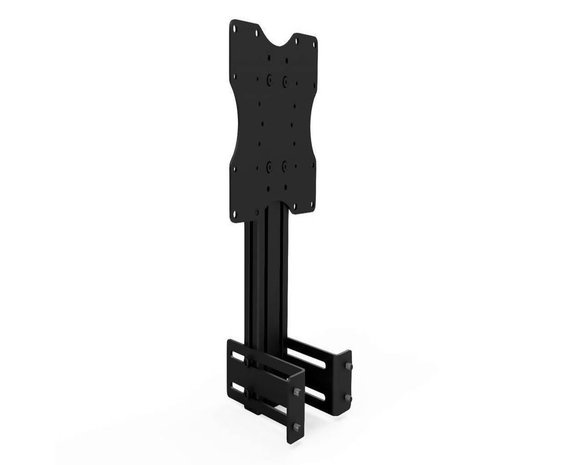 The Sim-Lab GT1-EVO Single Screen Mount is mainly built for the Sim-Lab GT1-EVO rig. It's adjustable in height and depth, the mounting patterns are 100x100mm, 100x200mm and 200x200mm. The monitor mount is not compatible with a 75x75 VESA mount and Fanatec Podium Mounting Bracket. 
This monitor mount has a very comparative price, however, the downside is that it's only compatible with the Sim-Lab GT1 Evo rig. So for all the people out there with a Sim-Lab GT1-EVO rig, this is the best and most efficient monitor mount solution!.